I have a pass to the Rec Center here in Washington, and my mom convinced me to go with her to a belly dancing class.


I've always thought it might be fun to try, but the room they do the classes in here is in the middle of the Rec Center, and has a few windows. So as people walk around the facility, they can see how lame you look. It was an interesting class, but I don't think MY body likes to move the way belly dancing requires. I can do some of the stuff, but mostly I just look like someone who's having a seizure. And my mom looks like she has severe Parkinson's. Maybe we just need the bigger hip spread and a butt. Last week when we went there were two other people with us. This time it was just us. And its time for the Senior Games here, and they were having some of the events there. So the place was packed but it was just me and mom for belly dancing this week. Rob came to the Rec Center and just worked out. Thank goodness he didn't come watch. Some other random boys kept sitting by the window though.


I felt so dorky. I seriously cannot move my body in some of the ways they do. And she keeps saying to tuck your butt under....How can you when you DON'T HAVE ONE TO TUCK!?! Bah....Maybe we gotta go get those underwear with the built in butt.


I've been saying for years I'd love to get butt implants....or they could just slide my love-handles down. My body shape is so awkward. I have a HIGH butt crack, and no butt, so my pants slide down, with the help of the love handles pushing them down...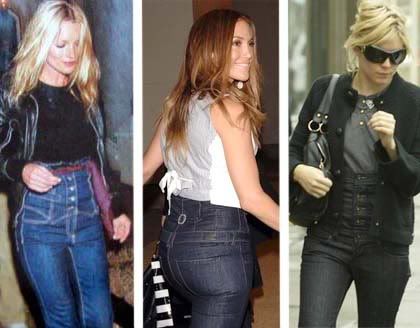 But I've seen the recent style of the "Mom Jean's" coming out....really high waisted...there go my problems....or not??